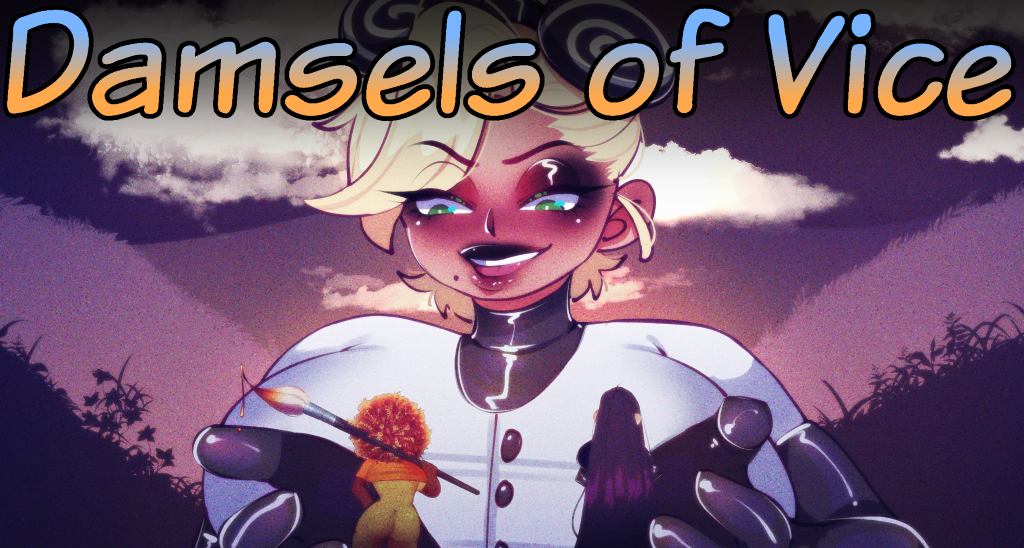 Damsels of Vice
A downloadable game for Windows
Don't become just another damsel in distress!

The evil Dr. Adelle "Ada" Vice is about to plunge Infinity City into a kinky crisis, transforming all of the citizens into loyal and horny bimbos made to serve her through her latest breakthrough, BIMBOSIS! Two of the city's greatest superheroines, Bondgetta and Heatstroke, must stop her before it's too late… but OH NO! They too have fallen under the erotic effects of "bimbosis" and must not only struggle against evil henchmen, slime creatures and criminal thugs, but also against their own burning desires of love and lust.
Damsels of Vice is an erotic RPG that takes action-packed combat and gives it a kinky twist. Fight against various villains as they beat, bind and seduce our two sexy superheroines who will turn into bimbos if they can't resist their foes. Enemies will cause special status effects called "Perils" that change the rhythm and flow of combat while they struggle to escape! Oh, and if you let your Resistance reach zero, you're f*cked. Literally!

Take turn-based combat to the next level with special Action Sequences! These are special button prompts that accommodate most enemy attacks. Press the correct arrow key fast enough to lessen or avoid incoming attacks and mischievous extra effects. Be warned, however, because true villains cheat! Some enemy skills will punish you for succeeding and reward you for failing.
Power Up! Your heroines level the way YOU want them to with the dynamic skill system. Use extra Lewda earned from combat and treasure chests to give Bondgetta and Heatstroke access to new skills, powerful passives and extra stat points throughout their journey! With all of the tricky villains and hidden traps, they will need all of the help they can get.
Avoid hidden traps and travel to four different dungeons, each one introducing a new Peril!
Take combat to the next level with Action Sequences that give enemy attacks special button prompts that give the heroines a chance to alter the end result… If they succeed.
Struggle out of Perils such as being bound, getting covered aphrodisiac slime and being sealed in skin-tight latex.
Customize the heroine's skills and stats through the Power Up system!
Too easy? Too hard? Never fear! Change the difficulty at any time to slow things down or speed things up.
A total of ten achievements to earn in this light-hearted, extra erotic adventure!
Join the developer Discord server: https://discord.gg/G2TsKAV
Controls:
Arrow Keys - Move
Enter or Z Key - Confirm
Esc or X Key - Cancel or Menu (Outside of Battle)
Shift Key (Hold) - Sprint/Move Fast
Tab Key (Hold) - Fast-forward Dialogue
Let's promote sex positivity and stay kinky my lovely perverts!
| | |
| --- | --- |
| Updated | 26 days ago |
| Status | Released |
| Platforms | Windows |
| Rating | |
| Author | SubSupreme |
| Genre | Role Playing |
| Made with | RPG Maker |
| Tags | bdsm, bondage, Eroge, Erotic, Fantasy, Female Protagonist, hypnosis, Superhero, transformation, Turn-Based Combat |
| Average session | A few hours |
| Languages | English |
| Inputs | Keyboard |
| Links | Patreon, Twitter |
Purchase
In order to download this game you must purchase it at or above the minimum price of $9.99 USD. You will get access to the following files:
Comments
Log in with itch.io to leave a comment.
I wonder if demos will ever happen.
Any game recommendations with similar story themes? Artstyle can vary (Though I really enjoy this one).
Thanks!
I would say that it's closer to a grapple than it is to something like VB and VB2. When a heroine is put in a peril, the basic attack command is disabled and you get a new "Struggle" menu that has several abilities to help you escape the peril. Bondgetta (and rarely Heatstroke) can use some of her Powers while under most Perils and items are still able to be used.

Any plans to release on steam?
Yes! I've been working on it these past few weeks. The approval process can be quite lengthy so it is still about a month before a release on that platform.
ok seriously getting frustrated with the constant slime attacks, you shouldn't have to deal with it one after the other, its damn near impossible to win if the AI just spams that attack, unless theres some cheat command to insta kill or be immune I have no idea what to do, I refuse to do ridiculous amounts of grinding cause if thats what it takes I'm not interested.
Which slime attack are you having trouble with? There are some attacks that you will want to press the wrong button to avoid the slime effects so be sure to experiment. There are no true Game Overs so even if you lose a battle you can jump right back into it.

General tips for dealing with the 'Slimed' Peril would be to remember that Heatstroke can actually use her powers when slimed and while Bondgetta cannot, she can just use the 'Give In' struggle skill to remove it (and she IS able to use her powers in the 'f*cked' Peril)

Finally, feel free to use the 'DIFFICULTY CHANGE' Key Item to adjust the difficulty if the game feels too grindy for you.

Thank you for playing and I hope this helps you overcome your slimy obstacle! ;)

Yeah I see what the problem is, some attacks you should not use an input for, though its still random when a slime glomps you so that can still be annoying, but I understand the patterns now, plus I leveled up a ton to get by the slime part
Pretty fun game, enjoyed it a lot Yes but we wonder is that blank painting off to the side another ending? If so how would one get it?
Thank you so much! I'm happy you enjoyed it. I had a blast making it!
As for the blank painting in the middle of the room, there's nothing there right now but if I end up doing an update to the game, I might have to sneak something in there since so many people are curious about it. ;)

I'm probably missing something obvious, but I don't actually know how to spot the Ninjas and what you're supposed to do in the 4th level Lab to avoid having to fight constantly. No doubt when I realize what it is I'll feel silly, but...
For the ninja ambushes, there's a semi-transparent piece of rope on the ground that triggers it when you step on it. It's hard to see in the tunnel but once you get inside, it's a lot easier to spot.